Apple might have been aware about easy-to-scratch iPhone 5
50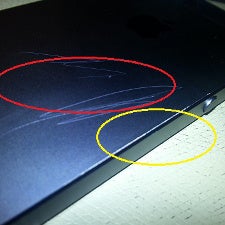 The
Apple iPhone 5
is here and a lot of you have gotten to not only hold it in your hands, but also carry it in your pockets sometimes along with keys, coins and other things you'd think wouldn't hurt your new gadget. Turns out, though, the iPhone 5's aluminum back is surprisingly prone to scratches, especially on the edges. How much? Enough for many to sacrifice its beautiful slim wasteline and light weight, and change all that for an ugly, bulky case for protection.
Is this only an issue with first iPhone 5 models or is it going to persist? And
did Apple know about this before releasing the device?
Those are two questions that would definitely bother you after you look back at some revelations shared by Foxconn employees before the iPhone 5 launch. An alleged Foxconn employee says - in a video posted before the launch of the new iPhone - that most of the iPhones produced are faulty and... the aluminum back is very easy to scratch.
Moreover, that employee claims that
only 10% of the phones made at Foxconn match the quality standard they should
, with all of the rest being faulty.
We find it hard to believe that if this was common knowledge for a random Foxconn worker, the ones directing the iPhone 5 manufacturing at Cupertino weren't aware about those issues. The curious video which you can watch below also suggests that Apple will eventually perfect its manufacturing, but users should wait until at least October for that to happen.
What are your thoughts on that? Could Apple have decided to overlook such a big manufacturing issue only to get the iPhone 5 on time?
source:
NTDTV
via
GSM Arena