Apple might be working on a mirror- and magnet-based optical image stabilization technology
20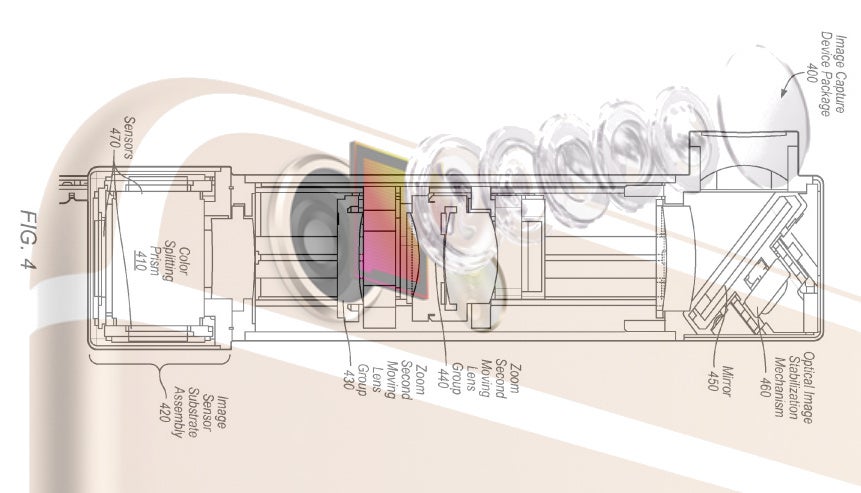 According to one of Apple's most recent patent applications, Cupertino might be working on a new type of optical image stabilization system for mobile devices, which will make use of complex mirror-to-mirror technology, dubbed "mirror tilt actuation". It is touted as being superior to OIS, which is tipped as being good, but not good enough.
The patent application reveals that Apple's mirror-based image stabilization tech will compensate jerky motions that users tend to produce with their hands while bringing out their photography-savvy inner self. Unlike the existing OIS technology which either moves the whole lens setup or tilts both the lens and the camera sensor, the tech that Cupertino's reportedly prepping in its labs consists of a camera sensor and lens elements that are independent from one another.
Here come mirrors - they navigate light from the lens straight to the camera sensor, somewhat similar to the way a submarine or a tank periscope works. The mirror will be paired with an actuator, which will tilt it and compensate user-induced movements that will normally add a solid amount of blur in the picture. The actuator itself will be powered by magnets.
As a refresher, both of Apple's newest phones, the iPhone 6 and 6 Plus come with image stabilization on board - the 4.7-inch model uses digital one, while the largest iPhone ever uses both digital and optical stabilizations on board. From the looks of it, some of the upcoming iPhone iterations might end up with a new type of image stabilization. It is more than welcome.