Apple looking to hire someone to "evolve" Siri's personality
15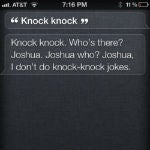 A job listing at Apple (which has already been pulled down) was found today that had the company trying to find someone to help "evolve" Siri's personality. Apple loves to make its users feel a personal connection to iOS devices, and Siri has become a big part of that, because the voice-powered virtual assistant goes a long way towards anthropomorphizing an iOS device, giving it a character.
In the job listing, Apple was looking for someone creative, who could "help the Siri team evolve Siri as a distinct, recognizable character," and to "develop and write original dialog to support new Siri capabilities." It went on to read:
We're looking for a uniquely creative individual to help us evolve and enrich Siri, our virtual personal assistant. Siri's known for 'her' wit, cultural knowledge, and zeal to explain things in engaging, funny, and practical ways. The ideal candidate is someone who combines a love for language, wordplay, and conversation with demonstrated experience in bringing creative content to life within an intense technical environment.
As we said, the job listing has already been pulled from the Apple website, but that doesn't necessarily mean the job no longer exists. Apple will continue to work on Siri, so we wouldn't be surprised to see the listing come back.