Apple is raking in the dough from Google search on iOS
22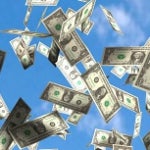 Morgan Stanley analyst Scott Devitt told clients on Friday that Apple could be raking in close to
$1 billion dollars
in 2013 from Google Search thanks to a deal that the Cupertino based firm has with its rival. While most analysts have been under the impression that Apple and Google have a deal that would pay Apple 75 cents out of every $1 Google earns with Google search on iOS devices, Devitt says that Apple would most likely have a per unit deal with Google instead, getting paid for each iOS device that rolls off the assembly line with Google as the default search engine.
around 5%
a year. Even so, that still works out to about $1 billion that Google will pay Apple this year. While that sounds like a lot of money, which it is, keep in mind that
Apple made $13.1 billion in profits last quarter
.
source: MorganStanley via
BusinessInsider