Apple is allegedly building a custom mobile GPU architecture
67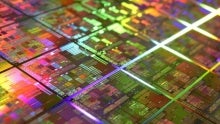 According to a new report from Fudzilla, Apple is secretly working on its own mobile graphics chip. Apple is said to be investigating custom mobile GPU architectures for a few years now, but the report mentions that the efforts have yet to yield satisfying results.
As per insider sources paraphrased in the report, the first Apple Ax SoC to integrate a custom GPU architecture might be as far as a few years away from now. Despite what seems like slow progress, however, the tech giant is said to heavily invested down this path.
Benchmark tests have shown that the PowerVR GPUs - which are designed by Imagination Technologies - that iPads and iPhones have integrated in the past few years are true pixel-rendering powerhouses. As such, if the company is indeed working on a mobile GPU, Apple has probably set the bar very high before an actual rollout across the iPhone and iPad lineups.
The wouldn't be the first time that Apple moves beyond the adoption of a standard architecture and comes up with its own design. Back on September 12, 2012, many were surprised to learn that the A6 SoC - found inside the iPhone 5 - integrates a custom-designed Apple "Swift" CPU architecture based on the ARMv7 architecture. Since then, all of Apple's mobile SoCs came with custom CPU architectures that have impressed in both real world performance as well as synthetic benchmark tests.
By implementing a custom GPU architecture, Apple would hit two birds with one stone. On one hand, the company should be able to create mobile GPUs that work perfectly in sync with the other elements one the SoC, improving the overall performance in the process. Furthermore, the implementation of a custom GPU would also translate into higher margins on iPhones and iPads, opening up the way to more record-breaking profits.