Apple iPhone XS and XS Max fast-charging speeds compared: Standard vs iPad vs MacBook charger
40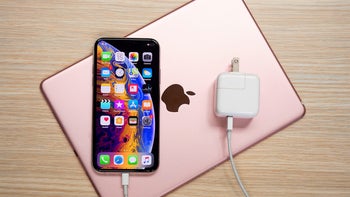 There's been a rather important question lingering ever since the iPhone XS and XS Max' arrival less than a month ago - how fast can you potentially charge these two new heavy-hitters?
Indeed, fast-wired charging is a relatively new, but still criminally under-used iPhone feature. The hardware is perfectly capable of handling faster charging times, but the stock charging brick that Apple ships in the box is incapable of charging the phones rapidly.
However, users have more than enough options when it comes to fast-charging solutions, two of which come straight from Apple and could even be tucked away in a drawer at your place, waiting patiently to juice up batteries once again. We are talking about your regular iPad and MacBook chargers, which are both capable of topping up your new iPhone way faster than its standard charger.

As we were quite eager to find out how much faster can you charge your iPhone should pick up a more capable charger, we devised a super-simple, yet pretty telling test.

We used one and the same pair of iPhones in all tests, an iPhone XS and XS Max; moreover, we've made no deliberate software or hardware in-between the test in order to obtain pristine data. Aside from the stock chargers and Lightning cables found in the original boxes, we also got hold of a
standard 12W iPad charger
that normally costs $19, and last but not least,
an 87W USB-C MacBook Pro (2016, 2017, 2018) fast charger
paired with a USB-C to Lightning cable, which you have to purchase separately from Apple. No spoilers, but the latter would yield the best results although the grand total of $79 for the charger and $19/$35 for the
1-meter
or
2-meter
variations of the USB-C to Lightning cable make that solution quite pricey.
Then charging ensued.
Have in mind that the new iPhones naturally can't receive the tremendous input of 87 watts of power that the brick is capable of pushing out. It would seem that the phones are capped at 18W similar to last year's iPhone X, meaning that regardless whether you pick a 29W, 30W, 61W, or an 87W power adapter, you should be able to achieve the advertised charging speeds. As we had an 87W brick, we resorted to using that one, but have in mind you should expect similar results with the aforementioned MacBook charges as well.
The results
Okay, enough setting up the plot, it's time for the raw data to come pouring in! Here's what we found out.
iPhone XS
As you can see, the results are telling a rather non-ambiguous tale. The stock iPhone charger is traditionally the slowest, most aggravating when you're in need of a quick top-up, and most suitable for lengthy overnight charges. In all honesty, charging your iPhone during you active day-to-day endeavors is hardly ever a pleasurable experience, but the 12W iPad charger proves that it shouldn't be that much of a hassle - it took this one roughly 30 minutes less to charge our iPhone XS up to 50%, which is quite an improvement. Looking at the 87W MacBook charger, it naturally charges the fastest, and we actually managed to shed off 2 minutes from the advertised 50% battery charge in 30 minutes.

As far as full charges go, the trends remained largely unchanged - the stock charger was, well, very slow, the MacBook charger performed admirably, and the iPad charger stood as a nice middle ground.

| iPhone XS charging times | 50% | 100% |
| --- | --- | --- |
| With stock 5W iPhone charger | 1h 17min | 3h 5min |
| With 12W iPad charger | 44min | 2h 16min |
| With 87W MacBook charger | 28min | 1h 55min |
iPhone XS Max
What about the larger iPhone XS Max? With its larger battery, this one naturally takes slightly more to achieve the same battery levels as its more compact peer. The stock charger would halve the battery level in 1 hour and 31 minutes, which is
sloooooooooow
, but do you know5 what's slower? That's right - the stock charger going for the full lap from 0% to 100%, which is a 3-hour-and-23-minutes endeavor. To put things in perspective, the critically-acclaimed cult classic
The Lord of the Rings: The Return of the King
runs for 3 hours and 20 minutes, so grab some popcorn and watch it if you haven't while you're charging your device.
Meanwhile, the 12W iPad charger fares much better. Charge with it short of an hour and you will get some 50% of battery charge inside your phone; leave it hooked up for 2 hours and 40 minutes, and your phone will be fully charged.
The 87W MacBook charger amazes once again - a 30-minute top-up will get you to 50%, while a full charge takes just 2 hours, which is an impressive result compared to what the stock charger is capable of.
| iPhone XS Max charging times | 50% | 100% |
| --- | --- | --- |
| With stock 5W iPhone charger | 1h 31min | 3h 29min |
| With 12W iPad charger | 56min | 2h 38min |
| With 87W MacBook charger | 30min | 2h 1min |
Conclusions
Our test further solidifies a couple of notions flying around:
1
) fast-charging is awesome;
2
) the standard 5W iPhone charger is inexcusably slow.
Of course, it's not exclusively an Apple practice to sell more potent phone accessories separately, as multiple manufacturers did just that even before the iPhones had scored quick-charging. However, it shows how behind the times the stock 5W charging brick is, falling ungraciously behind all of its Apple-branded brethren, especially those sweet iPad chargers that seem more and more appealing.
We'd actually recommend getting yourself an iPad charger or any compatible MacBook charger. Given that the iPad one is the most affordable at $19 and the MacBook ones start at $49, we'd wager most of you would rather consider getting the tablet charger.
Needless to say, it will be wonderful if you already own any of the chargers listed above, great! Feel free to use them and charge your iPhones much faster than what the stock charging brick would otherwise let you and don't be afraid you'd "fry" or somehow harm your $1000 gadget. By all means, if you have one of these lying around, use it!