Apple iPad Air 2: all the official images
16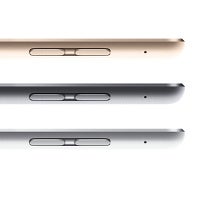 The Apple iPad Air 2 has just gone official, and it's now ridiculously thin, as well as light. In fact, the new iPad Air 2 is the 'world's thinnest tablet', while still managing to cram in top-notch silicon.
The iPad Air 2 features a new Apple A8X chip that promises to bring a 40% improvement in CPU performance and 2.5 times in GPU performance, but that is in comparison with the Apple A7, not the iPhone 6 with the A8.
In addition, Apple seems to admit now that tablet photography is a thing, and has included a nicely upgraded camera: it's now an 8-megapixel sensor with 1.12 micron pixels, and an f/2.4 aperture lens. The company has introduced some software features from the iPhone into the iPad lineup, things like slow motion recording at 120 fps (4 times slow-down).
Clearly, the new iPad Air 2 is a lot about the marriage of outer looks with that impressive thinness, and performance. That's why, we've included a gallery of the official iPad Air 2 press images right below. How do you like it?