Apple iPad 2 Web Browsing Comparison
26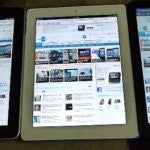 Being the newest tablet on the block, it's only natural to give the iPad 2 a run for its money when it comes down to the web browsing department. Lucky for us, just had to see for ourselves how much faster it's able to load up complex web pages against some of the competition – namely, the Motorola XOOM and the original Apple iPad.
In our quick real world comparison, we turned off the cellular connections on all three tablets and connected them to the same Wi-Fi network. From there, we pointed their respective browsers to our site, and moved forward in opening up particular articles in separate new windows. Granted that it was mainly tricky in attempting to properly press the corresponding on-screen buttons to open up a link in a new window/tab, we managed to correctly hit them at approximately the same time for the most part.
As usual,
kinetic scrolling and pinch zooming is always buttery fluid in motion
and is preferable over the Motorola XOOM, but it isn't all that different from the original iPad. However, in almost all occasions, the iPad 2 is primarily the first to load up text, followed by the Motorola XOOM, and then the original iPad. Additionally, pictures also load up just smidgen faster, but the Motorola XOOM manages to keep up with its pace. All in all, it's quite obvious that the dual-core processors working diligently inside the Apple iPad 2 and Motorola XOOM does in fact translate to a faster rendering time. Check out the video to see the entire comparison.