Apple iPad 2 FaceTime Demonstration
14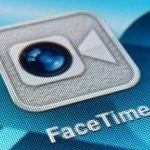 Made popular by the iPhone 4 from this summer,
FaceTime
is finally here with the iPad 2 thanks to the addition of cameras that now grace the tablet's exterior. Without much hesitation, we quickly got situated with Apple's fancy video calling service that still requires you to
connect to a Wi-Fi hotspot
in order to place a FaceTime call. Although that is seen by some people to be its sole limitation, it's easily overlooked once you begin to use it more frequently and realize its tolerable usefulness over other competing services out there.
On the homescreen of the iPad 2, there is a FaceTime icon that you can tap on to launch the
2 paneled interface
that has your preview window on one side, and your call list on the other. Specifically, the call list panel enables you to quickly check out your contacts, view your most recent calling activities, and access your favorite contacts for quick video calling.
Using an iPhone 4 for our demonstration, we connected both devices to the same Wi-Fi network and initiated the call starting on the iPhone 4 via an email address – since there is no phone number attached to our iPad 2 unit. Soon afterwards, a screen pops up on the iPad 2 showing the incoming call, and of course, we quickly began video chatting.
In terms of quality, the video being displayed on both devices are rather
pixelated
, but since the iPad 2 has the larger display between the two, it's blatantly more noticeable on it. Nevertheless, we're content with the
responsive look
of FaceTime since it picks up even the slightest of movements without that much evidence of slowdown or lag. Moreover, voices have a good
distinctive tone
to them, which of course is essential for any video chat service, but its combined performance manages to make the service a preferable choice over others. In the end, FaceTime on the iPad 2 bridges yet another product medium into the mix – though, we'd like to see them step it up a notch by supporting FaceTime via 3G.