Apple has iconic industrial designer Marc Newson join the team
41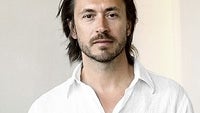 When you are a world renowned industrial designer, whose imagination has helped create new business-class interiors for Qantas Airlines, or just dabbled with some aircraft aluminum to create a chaise lounge, the "Lockheed Lounge," one of which just sold for about $1 million at an auction, it is a safe bet that your talents are going to be in demand by a company like Apple.
So much of Apples function follows form. That was something Steve Jobs was relentless in pursuing once he had returned to Apple. It is also something that current designers like Jony Ive have also been at the forefront as Apple's products have evolved, particularly the iPhone and is ever-so-incrementally enhanced operating system, iOS.
Marc Newson is known for original, well thought-out, and sought-after designs when it comes to furniture, cars, cameras, and even watches. His signature is a sort of "biomorphic" design, a lot of curves, and few, if any hard angles and edges. His work sells for a lot of money, and it also has permanent places in museums like the MOMA. His designs cater to the high-end, and command a high price. In 2005,
Time Magazine
placed Newson among the 100 most influential people of the year.
Now, Newson is joining up with Apple. What his role will be exactly is not known, but we are pretty sure his efforts will not be wasted on the finer design points of an iPhone or iPad, nor will be second chair to Ive. Rather, an artist of this caliber will probably be more heavily involved in shaping Apple's product line as a whole, further up the innovation chain, before anything is mass produced.
Newson is not even leaving the United Kingdom for sunny California, favoring periodic visits, and the fact the he and Ive have been friends for over 20 years, saying, "It's very very easy for us to talk on the phone and design something more or less verbally. We've both been doing our jobs for more than 20 years—it's what we do day in and day out. We speak each other's language completely fluently."
source:
Wired