Apple gives in to shareholder demands with $2.65 quarterly dividend and $10 billion stock buyback
23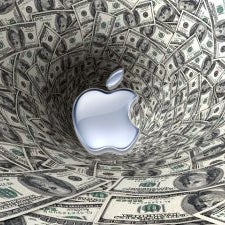 Apple just announced what it plans to do with the $98 billion of cash and cash equivalents it has amassed since the runaway success of its iPhone and iPad mobile devices.
That's exactly what Apple will start doling out each quarter, starting with the July one, to the tune of $2.65 a share. Not too shabby, but to soothe the inevitable stock price drop with the size of the dividend, Apple will also start
buying back its own shares
in the September quarter, and has set aside $10 billion for that.
The share buyback will be spread over three years, and aimed to minimize stock dilution from Apple employees exercising their option grants. As per Tim Cook:
We have used some of our cash to make great investments in our business through increased research and development, acquisitions, new retail store openings, strategic prepayments and capital expenditures in our supply chain, and building out our infrastructure. You'll see more of all of these in the future. Even with these investments, we can maintain a war chest for strategic opportunities and have plenty of cash to run our business. So we are going to initiate a dividend and share repurchase program.
Peter Oppenheimer, Apple's CFO, calculated that "
Combining dividends, share repurchases, and cash used to net-share-settle vesting RSUs, we anticipate utilizing approximately

$45 billion of domestic cash

in the first three years of our programs
".
Well, it seems that someone in the market has "anticipated" those $45 billion coming the shareholders way over the next 3 years, since Apple's shares have gained an almost unthinkable amount for a large market cap in the last weeks. The first dividend program for Apple since 1995 also shows that its explosive growth period might be stepping aside for a more balanced approach, while still maintaining high margins.