If Apple does what this hot rumor suggests, the iPad Pro could be your next laptop
22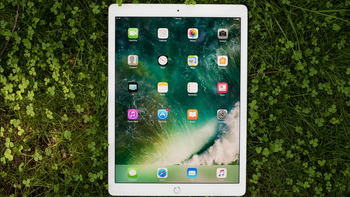 A tweet from Irish developer and tipster Steve Troughton-Smith
(via
BGR
) seconds a rumor already passed along in a podcast by Federico Viticci. And this rumor is pretty big as far as Apple
iPad Pro
users are concerned. According to the pair, iOS 13 is going to bring mouse and trackpad support for Apple's high-end iOS-powered tablets. This could make it easier for iPad Pro users to multitask, turning the tablets into laptop replacements.
Apple is not trying to get iPad Pro users to stop using the touchscreen on the tablet but is supposedly adding this as another way for a power user to navigate the content on his iPad Pro screen. Most likely a mouse would connect to the tablet through the USB-C ports found on the 2018 iPad Pro models.
If Apple does offer mouse and trackpad support to the 2018 iPad Pro models, it would dovetail with how the company has marketed the device. Last November, Apple released a promotional video
giving five reasons why the iPad Pro "can be your next computer."
To become a laptop replacement, an iPad Pro user would have to purchase the Smart Keyboard accessory that features a full sized QWERTY keyboard. It also protects the iPad Pro when the user is on the go and provides two viewing angles for the tablet's display.
Some might wonder if Apple would be cannibalizing its own line of MacBooks by trying to position the iPad Pro as a laptop replacement. We do know that Apple's Project Marzipan
will allow developers to create one single app for the iPhone, iPad, and Mac by 2021
. This has led some to assume that Apple will soon replace the Intel processors running the Mac with chips it designs itself. After all, both the iPhone and iPad use chips designed by Apple and manufactured by TSMC. The tech giant makes it clear that it does not plan to merge iOS and macOS into one platform.
The Apple iPad Pro competes at the high end of the tablet market with Microsoft's
Surface Pro 6
. But the latter has a few advantages over the iPad Pro when it comes to being a laptop replacement. First of all, it runs Windows 10, and it already supports the wireless Surface Mobile Mouse that connects to the tablet using Bluetooth. The Type Cover accessory protects the Surface Pro and allows users to type using a QWERTY keyboard.
If this rumor about adding mouse support is legit, we should get the word from Apple during the WWDC developers conference. This year, the conference is expected to run from Monday, June 3rd through Friday, June 7th.
Would you buy an Apple iPad Pro as a laptop replacement?

The 2018
11-inch
and
12.9-inch Apple iPad Pro
models include Face ID, a TrueDepth Camera, and an
edge
-to-edge display. They both will support the second generation
Apple Pencil
that magnetically attaches to either tablet and charges while doing so.
If you want to trick out your iPad Pro as a laptop, let's check out how much this would cost. The 64GB 11-inch iPad Pro starts at $799 for the Wi-Fi model, and $949 for Wi-Fi + Cellular. The 64GB 12.9-inch version is priced at $999 (Wi-Fi) and $1,149 (Wi-Fi + Cellular). You would need to add the Smart Keyboard at $179 for the 11-inch slate, and $199 for the 12.9-inch unit. So that would add up to a range of $998 to $1,348, but keep in mind that adding more storage (options include 256GB, 512GB, and 1TB) will raise the price range significantly. It all depends on your needs.
If you are considering the purchase of a laptop, would you consider the iPad Pro as an option if it supports a mouse or a trackpad?