Apple comforts Europe's charging connector standard with a EUR 19 Lightning to microUSB adapter
11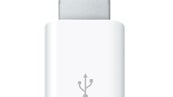 The European Union has its strict standards in place that every phone has to use a good old microUSB for charging and transfer now. Apple unveiled a
new dock connector called Lightning
yesterday, but it is a far cry from microUSB, despite being much smaller than the 30-pin one it was using until now.
The all-digital reversible connector calls for an adapter to hook up older accessories with the 30-pin one, and the
adapter will be on sale in October for $29
. You can also get a spare
Lightning to USB cable
for plugging into your computer, for $19, the traditional pricing, or splurge $39 on a
Lightning to 30-pin Adapter with cable
.
Now Apple appeared with a fourth one, which it seems will be available in Europe, in order to circumvent the microUSB requirement. It is, you guessed it, a
Lightning to microUSB adapter
, and will set you back EUR 19 when it hits stores in a few days from now. Have a look at the Lightning adapter family in the slideshow below.