Apple announces impressive iOS sales numbers
15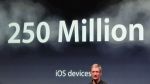 In the incredibly long buildup to the news we really want to hear, the announcement of the new iPhone and details on Assistant, Apple has been giving some interesting numbers on iOS sales, market penetration, and enterprise adoption.
The big number is 250 million, which is how many total iOS devices Apple reports that it has sold. That is a huge number, and the vast majority of it is made up of iPhones. Apple also revealed that the iPhone 4 has accounted for half of all the iPhone sales since the OG iPhone was released in 2007. Of course, the iPhone 4 also had the longest shelf life of any iPhone, since the AT&T version launched in June 2010. iPhones usually have just a one year cycle, but the iPhone 4 has had 16 months as the primary Apple phone on the market. The Verizon variant obviously has a lot to do with these sales numbers as Apple has also noted that iPhone sales have grown 125% year-on-year. On top of that, Apple has said that 93% of Fortune 500 companies are "testing or deploying" the iPhone. Again, this could be very misleading. The statement could be considered true if even a few employees at each company use an iPhone, we just don't know at this point.
The iPad is also still the dominant tablet, although not as dominant as it once was. Apple is reporting that 75% of tablets sold are iPads, which seems impressive at first, but it also points to Apple's tendency to focus on a currently big number rather than mention that those numbers are on decline. Still, as of now we will have to agree with Apple's statement that customers don't want tablets, they want iPads, because as yet, many consumers probably don't understand the choices available, especially with dead devices like the PlayBook still lining store shelves.
Apple has also said that based on browsing data, iOS makes up 61% of the smartphone market. Again, we're not sure to understand what to make of this, as a recent report from Net Applications had iOS at just 55% of the global smartphone market. Both of these numbers put Apple in the lead of global smartphone usage. We've been reporting a lot recently that Android is ahead in sales, but we have to remind you that's just in current sales. Apple still has a big lead in overall market share, although Android has been outselling the iPhone in quarterly reports recently.
Now on to the hardware and software announcements!