Apple Store in Singapore is used for post-wedding ceremony photographs
30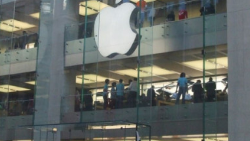 Jermyn Wee, 34, and Chia Suat Huang, 31, were trying to decide on a location to use as a background for their post-wedding photographs. The couple, who wed in Singapore on June 3rd, decided on having the pictures snapped inside the country's one and only Apple Store. It seems that Mr. Wee is camera shy, but is also a huge Apple fan. The result? The Apple Store was the one location where he couldn't say no to being snapped.
Keep in mind that this was not planned out in advance with Apple. The newlyweds appeared at the Apple Store 30-minutes before the doors were to open; the couple had their bridesmaids and groomsmen speak to the store's managers in an attempt to pull this off. Just 10 minutes before the Apple Store was supposed to open, management gave the couple the green light. As customers cheered on the newly married couple, the wedding photographer snapped pictures, two of which you will find in the slideshow below.
What is interesting is that if you showed up 30-minutes prior to the store's opening to buy an iPad for example, you'd probably be turned back and told that the Apple Store's insurance carrier won't allow the location to open the doors early. But tell store management that you want to take wedding photos inside before the store officially is open for business, and you're welcomed in with (somewhat) open arms.
source:
Weili Yip Creations
via
RedmondPie