Apple Music snags 6.5 million paying subscribers
14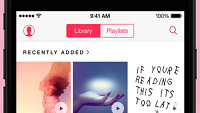 Back in August, Apple revealed that it
had signed up 11 million people
for its three-month free trial for Apple Music. On September 30th, a large number of those people had to decide between subscribing to the service, or letting it go. The service
launched on June 30th
. On Monday, Apple CEO Tim Cook announced that 6.5 million subscribers decided to pay for Apple Music.
In addition, another 8.5 million are currently signed up for the three-month free trial. Apple does not offer a free ad-supported tier of service, unlike its rival Spotify. Of Spotify's 75 million subscribers, only 20 million are paying for the service. While Apple was negotiating with music publishers earlier in the year to determine the royalty rates for Apple Music, the tech titan allegedly asked the publishers to
put pressure on Spotify to shut down its ad-supported free plan
.
Apple Music features streaming music and playlists curated by humans. A service called "Connect" is essentially an online bulletin board where artists can communicate with fans, and a 24/7 radio station called Beats 1 will entertain you. Apple charges $9.99 per month for individual subscribers, while a plan is available for families with up to six members. The latter is priced at $14.99 a month. Apple says that subscribers have access to more than 30 million songs.
"We have music experts, just like the DJ when we were growing up...that are deciding what's next. And it gives you a feeling that there are no words in my vocabulary to describe. It brings the art back in music."-Tim Cook, CEO, Apple
source:
CNET