New app brings iMessage texts to Android phones using a clever workaround
20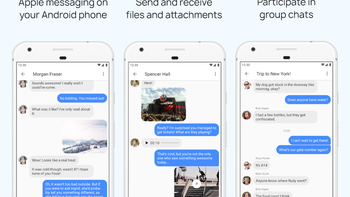 Back in the day, people expected that with the advancements in technology one day all of our remote communication would be through video calls. And while video calls are indeed quite common today, most of us don't insist on looking at our conversation partner in real time. This is why texting has become the norm and with that came the abundance of texting apps for smartphones.
It's no secret that among the most popular ones is iMessage. Apple's texting app has become one of the staples of its ecosystem, offering easy messaging between owners of iPhones, iPads and Mac computers. The service became so popular that some users refuse to get an Android phone because they'd have to part ways with iMessage.
It's not surprising then that software developers have been looking for ways to bring iMessage to Android since Apple itself would never do that (for obvious reasons). It seems the developers of AirMessage, a new Android app, might have finally solved the problem,
BGR tells us
.
The solution is a bit more complicated than downloading an app on your phone, but if you're a die-hard fan of iMessage that has always wanted an Android phone, it's definitely worth checking out!
First off, there's one pretty significant condition to get iMessage texts on your Android phone: owning a Mac computer. Granted, chances are that if you've come to rely heavily on Apple's services, you probably have one already. However, it also has to be turned on all the time as well, or at least as long as you want blue-bubble messages to reach your Android phone.
The reason for that is simple. The way AirMessage works is by providing a secure connection between the phone and the Mac computer, which is used as the de-facto sender and receiver of messages through iMessage. The whole setup process on the Mac side is a bit more complicated than the average software installation but clearly
explained on AirMessage's website
. Still, the effort will be well worth it for those in need of such a service.
Once everything is set up, you'll not only get access to the coveted blue text bubbles but you'll also be able to send pictures, videos and any other files you want.
If you're worried that having an intermediate between your phone and the real iMessage might compromise your privacy, you shouldn't be. The developers of AirMessage ensure there's no data going through any third-party servers, just your phone talking to your Mac through an encrypted channel.
The app just came out of beta and is now available for everyone to download. You can get the Android app and the server app needed for your Mac from the link below: