Angry Birds profits drop 50%, can we finally forget it exists?
22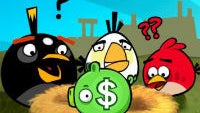 Not many games can capture the public attention like Angry Birds did. There are plenty of flash-in-the-pan games that disappear as quickly as they gained popularity, like Flappy Bird, FarmVille, Temple Run, and others. But, not many games can cross into the territory of a cultural phenomenon like Angry Birds, which grew beyond games and into a slew of merchandising tie-ins.
It may be about time that we can stop pretending that we still care about Angry Birds though, because Rovio seems to be on the decline. In a recently filed financial report, Rovio has revealed that its revenue basically stayed the same between 2012 and 2013, but profits have fallen by 50%. Merch is still doing its share, only down 2% year-on-year, so it is the games that are the issue. Given that revenue is flat, it could just be that Rovio is spent more on production for recent games like Angry Birds Go! or Angry Birds Epic, but it also could be that users are not happy with the switch to the free-to-play model.
Angry Birds games had always made money simply by charging for the game itself, and maybe a couple in-app purchases to help get past more difficult stages. But, the move to a freemium model has caused backlash by users who have seen Rovio's implementation of the model as one of the more blatant cash grabs, and something that severely takes away from the games. Interestingly, Rovio did not include monthly player numbers in this year's financial statement, which would seem to indicate that the number also dropped significantly.
This isn't necessarily the end for Rovio, because it does still have the merchandising, and it still has a feature film of Angry Birds in the works. But, the company obviously needs to figure out how to fix its games, or else the end may not be too far off.