Angry Birds pandemic spreads: 500 million downloads and counting
1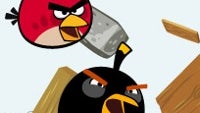 The number of people who have downloaded Angry Birds has grown exponentially and has now reached the size of a continent as Rovio reported that the figure has reached
500 million
. The milestone is definitely impressive and Rovio's marketing head Peter Vesterbacka claims the game is actually the quickest growing and has the most downloads of any game ever released.
Angry Birds was launched on Dec 11th, 2009 and has undergone
mushrooming growth
with nearly no marketing dollars involved. With the mass adoption of smartphones, the pace of growth has only become faster – the last two weeks alone contributed 100 million downloads.
The active user base is also huge:
130 million players monthly
, 30 million daily and 300 million minutes spent in the game every day.
The Angry Birds pandemic has grown to much more than just the game. Rovio is selling related merchandise on its website, there's the Angry Birds Rio movie and the company is even expected to release a cookbook.
"This is a fantastic landmark achievement for us, and we're extremely delighted to see such an incredible amount of people enjoying our games,"
Rovio CEO Mikael Hed said.
"We remain committed to creating more fun experiences and bringing exceptional quality to Angry Birds Fans everywhere."