Andy Rubin says "Google has no plans" for retail stores
6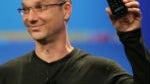 Well, that rumor didn't last all that long. We first heard the rumors about 11 days ago that Google could be
opening its own retail stores
this holiday season. Exactly one week ago, the Wall Street Journal "
confirmed
" the rumor, and now Android head Andy Rubin has smashed the rumor, saying that "Google has no plans" to open retail stores.
Andy Rubin was actually quite forceful when speaking to AllThingsD, going as far as to say:
For Nexus, I don't think the program is far enough along to think about the necessity of having these things in a retail store.
Rubin said that he ultimately thought that customers "don't have to go in the store and feel it anymore" when purchasing a device. Given the comments earlier from Jamie Rosenberg confirming
Google's support of selling devices through the Play Store
, these comments from Rubin don't seem that out of place.
Of course, saying that Google doesn't have plans for retail stores doesn't discount the possibility of more pop-up stores and stores-within-stores for the holiday season. We'll have to see on that.
Recommended Stories