Android and iOS hold 99.6% of the global market, according to latest data
23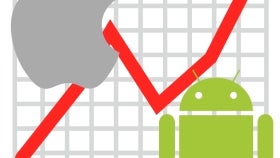 The latest data by Gartner, one of the top tech research companies, shows some pretty interesting numbers. The last quarter of 2016 looks nothing like Q4 2015, when it comes to the smartphone market.
The most noticeable year-over-year difference comes in the OS distribution stats. According to Gartner, 99.6% of all smartphones shipped in Q4 2016 run either Android (81.7%) or iOS (17.9%). Windows lost the most, compared to 2015. Microsoft's OS dropped from 1.1% to 0.3% year-over-year, probably due to the deal with Nokia ending last year. As for BlackBerry OS, we can wave goodbye to that one, as it fell under 0.0% with the measly 207,900 units shipped. Other OS account for 0.1% of global shipments, as opposed to 0.2% for Q4 2015.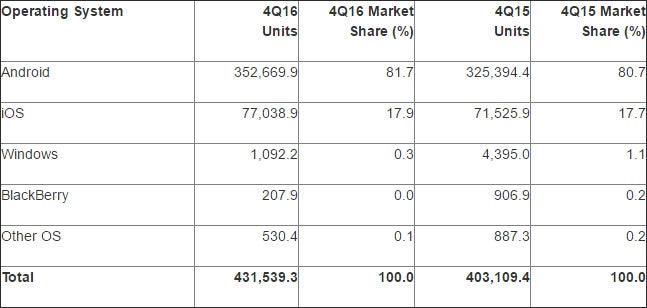 Mobile OS distribution, Q4 2016 (Thousands of Units)
Gartner's report also brings some good news for Apple fans. For the first time since 2014, Apple shipped more units than Samsung, but the margin between the two is barely noticeable. Apple's sales account for 17.9% of the worldwide total, or a bit over 77 million units; while Samsung sold about 76.7 million units, making for 17.8% of the total. The difference between the two in units is just 256,300. This was probably made possible by the
Galaxy Note 7
washout, as the recalled handset doesn't count towards the statistics.
In the meantime, Huawei sits in the very solid third place, with almost 41 million units sold, making for 9.5% of all smartphone shipments for the period. This is a good 1.5% year-over-year rise for the Chinese OEM. Oppo came in fourth, with 6.2% and fifth place was taken by BBK Electronics that manufacture OnePlus and Vivo. Technically, Oppo is a subsidiary of BBK, but the two companies were presented separately in Gartner's report.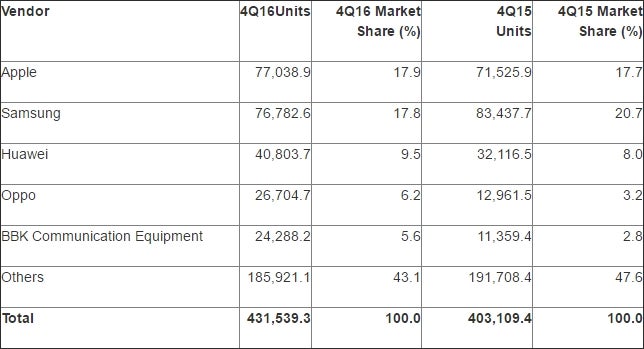 Smartphone sales by vendor, Q4 2016 (Thousands of Units)
The Q4 data paints a different picture than what the 2016 total shows, though. While Huawei, Oppo and BBK keep their places, for the entire 2016, Samsung has shipped more units than Apple by a wide margin. The South Korean OEM sold around 306.5 million units that make for 20.5% of the total, while Apple sold approximately 216.1 million, or 14.4% of all smartphones shipped for 2016. Both companies lost some market share to the top Chinese companies, though. Samsung's market share dropped by 2%, while Apple's fell by 1.5%, compared to 2015.