Android Marshmallow's 'Night Mode' feature could add an optional dark UI
6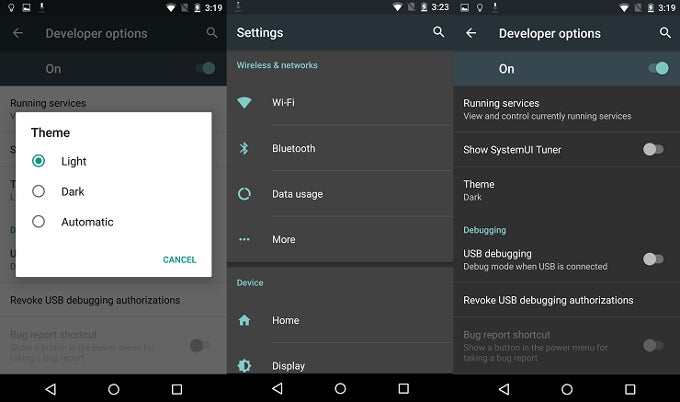 During the run-up to
Android 6.0 Marshmallow
's recent release, those who checked out the Developer Preview were treated to a glimpse of a special dark theme. With the end user roll-out now upon us, said theme is unfortunately nowhere to be seen. It may not be the end of the road, though, with one developer having found some references to a 'Night Mode' within the Android Marshmallow code.
Many of us have our smartphones and tablets perpetually glued to our hands, and the digital gluttony can take its toll on our health. Aside from the addictive nature of social media, apps, games and other distractions, our eyes can easily become tired from staring at a big, bright display all day long. The darker theme, as users discovered during the Preview phase, tones everything down, and if Android Marshmallow did introduce the feature more expansively, a lot of potential headaches could be saved.
Newer devices boast ever-increasing display sizes, and while bigger and brighter tends to make for a more laudable experience, these panels do have their share of hazards. Spotted within Android Marshmallow's code by developer
Hernán Castañón,
Night Mode might never see the light of day, if you'll excuse the terrible pun. But the option of a darker theme seems a no-brainer from a Google and consumer point of view, since aswell as sparing users of potential eye damage, some folk simply prefer a dark interface.
Expanding, Night Mode could eventually progress into an automated system that adapts to daylight for a fluid, seamless user experience. For those interested, there's a neat Android app called
Twilight
that filters out blue light lets users adjust display tones to harmonize with natural sunlight. It remains to be seen whether the Big G has any plans to develop and release Night Mode for its many millions of users, though, and we keenly await further developments.
Would you like to see a darker UI option on your Android device? Let us know via the comments!