Android 2.3.4 being pushed to HTC Sensation 4G
4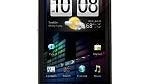 T-Mobile's HTC Sensation 4G is getting an OTA update to Android 2.3.4 / software version 1.45.531.1. The rollout has started tonight, but T-Mobile says that the rollout will continue for weeks and not be complete until the end of September. The update includes a number of improvements such as:
Software stability
Improved battery life
Improvements to Trace dictionary
Improvements to screen responsiveness
Improvements to video playback
Improvements regarding device reboot / power off
Improvements to icon pixilation
Improvements to Wi-Fi connection
Improvements to screen/photo resolution
Although unconfirmed, it's likely this update will also add support for the newly released bootloader unlocking tools offered by HTCDev.com, because the 2.3.4 update also brought this support to the EVO 3D.
One thing we're concerned about is that the release notes from T-Mobile don't mention video chat in GTalk, a feature which seems to only appear on the Nexus S. Can anyone out there with a Sensation confirm no video chat support?