Analysts say that Disney+ will be a big hit, but not because of the classics
7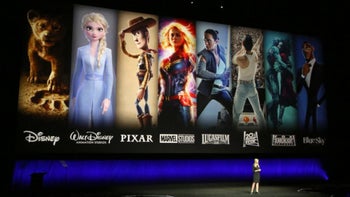 Besides the classic (and nostalgic) Disney animation, the company has plenty of live-action movies that consumers would love to stream on-demand. Remember, Disney owns the Star Wars franchise, Pixar, 20th Century Fox, (which explains why every episode of
The Simpsons
will be available on the app from day one), Marvel and more. Priced at $7 a month, or $69.99 a year (which works out to $5.83 a month), the analysts point out that Disney+ is a bargain compared to Netflix at this point, although Disney could eventually raise the cost of the service.
"Beyond films, which Pixar, Marvel, and Star Wars are best known for, writers and directors will have a new medium to tell their stories in episodic form. We are already seeing Pixar dip its toe into episodic content with a new show in the Monsters Inc. universe called Monsters At Work which is a workplace comedy that has similarities to hit shows like The Office. This is just one example of new shows that fans of the biggest franchises in the world will be dying to watch."-Gene Munster, Pat Bocchicchio, analysts, LoupVentures
Disney owns a majority stake in Hulu, and combined with its ownership of ABC and ESPN+, the company is expected to sell a package bundling live sports and live television. If the House of Mouse can price this right, Disney+ can compete with anyone including Netflix. The latter has made it clear that it won't bid for sports programming.
Both Munster and Bocchicchio make an interesting point about Disney's original programming. The analysts say that after a brief period of time, it won't be the movies in the Disney Vault that will drive consumers to subscribe; after all, how many times can you watch The Lion King? What will drive growth to Disney+ will be the new content that takes Disney's beloved characters and continues their stories by putting them in new situations and adventures.