Analyst says text spam increased 45% last year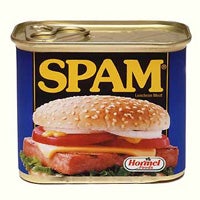 Spam – we all get it, we all hate it and lately it has been overflowing out of our email and into our text messages. Unfortunately this rising, unwelcome trend has no signs of going away any time soon.
According to industry analyst Richi Jennings, U.S. spam text messages rose 45% last year to 4.5 billion messages. Spammers are typically able to use get an unlimited texting plan on a prepaid phone for as little as $20 a month, whereas recipients can be charged as much as 20 cents per message. While at first glance it may seem that carriers don't care since they are getting additional revenue, Bloomberg reports that customer complaints about spam texts costs the carrier between $5 and $50 per call.
Since many of these text messages contain links to malware or can authorize charges to your bill if you respond, it is best to ignore them when you receive one. Some carriers have a way to report these unwanted messages by forwarding the text to SPAM or 7726. Your other option is to report the number to the FCC.
While that may not seem like enough immediate relief, David Diggs, a vice president at CTIA, said that several carriers are collaborating on a new anti-spam effort that is expected to be unveiled this year. Hopefully we will see carriers start to beef up their spam prevention efforts in the near future.