Amazon launches Kindle ebook borrowing from libraries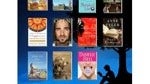 Amazon has launched a new Kindle feature today that could end up being pretty huge. Other e-readers have offered borrowing books from libraries before, but Amazon's name alone in the space makes some waves. Even better, Amazon doesn't require that you be in the library to borrow, as some do, and Amazon allows borrowed books to be sent not only to Kindle devices but to mobile apps as well.
The service is hooked in to OverDrive, which powers the e-book and audiobook lending for about 11,000 libraries around the US. So, it's best to start out at OverDrive to find out if your local library is part of the program, but if it is, just find your library's e-books and there will be an option to get the book on Kindle. That option will send you to the Amazon website, where you'll be able to send the ebook to any device you choose, or even read in the browser.
We tested the feature using the Kindle Android phone app and it worked perfectly. Although the selection of ebooks was pretty limited (we were checking the Boston metro area Minuteman library network), the process for getting the books to your device is quite simple. Definitely a nice new service, and we hope it leads to some more readers out there.