Amazon gets court to dismiss Apple's claim of false advertising
18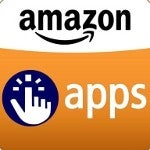 Amazon App Store for Android
. Amazon says that the "app store" term is generic and does not belong to Apple.
In 2008, Apple tried to register the App Store name with the USPTO, and Microsoft opposed the filing, saying that the phrase is generic. The Trademark Trials and Appeals Board put on hold an opposition proceeding until after the Apple-Amazon suit is resolved. Apple spokeswoman Kristin Huguet declined to comment on Hamilton's order, and Amazon has not yet commented.
"The court finds no support for the proposition that Amazon has expressly or impliedly communicated that its Appstore for Android possesses the characteristics and qualities that the public has come to expect from the Apple APP Store and/or Apple products."-U.S. District Judge Phyllis Hamilton
For those legal beagles out there, a copy of the entire order can be found at the sourcelink.
source:
Engadget
,
Bloomberg