Amazing Spider-man 2 game hitting mobile on April 17th
4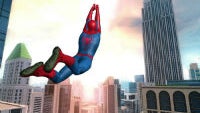 The Amazing Spider-man 2 movie is going to be hitting theaters on May 2nd, which means it is almost time for the tie-in mobile game to be released. Gameloft has been teasing the game for a while, and now it has a trailer and a release date set. The Amazing Spider-man 2 game will be coming to mobile platforms this Thursday, April 17th.
Gameloft is promising something big for the game. It will be the same open-world New York City setting as the first game, but Gameloft says that it will be "bigger and more crowded with 8 different Manhattan environments". And, so far, the game looks pretty nice. The graphics have been updated and the action looks to be face-paced.
The game will likely follow along with a story similar to the movie, and it will definitely include fights with Electro and the Green Goblin. Interestingly, it will also feature various costumes for Spidey. In addition to the standard suit, the trailer shows the black costume, Iron Spider Armor, and more.
The game will be available for Android, iOS, and Windows Phone on April 17th. No word yet on pricing.