Alleged iPhone 5 home button surfaces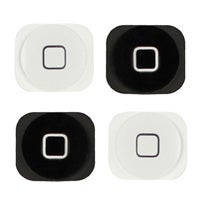 TVC-Mall, who has been credited with leaking parts in the past, has updated its website to include a section for "iPhone 5 Replacement Parts." Currently, it only has 2 items, a black and white version of what it lists as a "Home Button Key Repair Parts for iPhone 5."
Interestingly, while the button maintains its circular depression, the part itself is a rounded rectangle. While we can't be certain that this is a part from the next generation of Apple's iPhones, it definitely maintain the familiarity of an iPhone button while being distinctively different from the current iPhone 4S part.
Ever since the new iPad was released, the iPhone 5 rumor mill has been churning up all kind of reports about the next iteration. Unfortunately, one home button really doesn't give us enough
insight
into whether or not Apple is planning on a full redesign this time around. Oh, and just in case you were wondering, these home buttons retail for $4.72 to $5.60 each depending on order quantity.
source:
TVC-Mall
via
Electronista