Alcatel's Cyanogen-running Hero 2+ phablet has officially been scrapped
6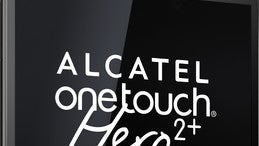 With no clear path to Android 5.1 Lollipop, Alcatel and Cyanogen have decided to shelve the promising
Hero 2+
phablet. First unveiled back at Mobile World Congress, the Hero 2+ was touted as a branch of the OneTouch Hero 2, running the Cyanogen OS atop Android KitKat 4.4.4. But with the industry now moving in the direction of Android Lollipop and looking ahead to Android M, the delay of the Hero 2+ has reached the point where both Alcatel OneTouch and Cyanogen have decided to scrap it.
A joint statement from Alcatel's Steve Cistulli and Cyanogen's Vikram Natarajan suggests that while the Hero 2+ is not going to reach fruiton, this isn't the end of the relationship between the two firms, and that we can expect more great hardware collaborations in the future:
Alcatel OneTouch and Cyanogen, Inc. have made a mutual decision to forgo the release of the Hero 2+. . . The bar was set high and unfortunately the device does not have a clear Android 5.1 upgrade path. We therefore are committing to refocus our joint efforts on a next-generation product that can exceed the expectations of end users.
The fact that both companies remain focused on delivering new products down the line is definitely encouraging, despite the lack of a release that had bags of potential. At $299, it may have been a hit with fans of the popular Cyanogen OS, but after such a lengthy delay, it wasn't to be.
Still, if you're a fan of its design and features, the Alcatel OneTouch Hero 2 is still about, and as you'll see in
our review
, is bundled with plenty of goodies.