Agree or disagree: Leaks spoil everything and I'd prefer we didn't have them
30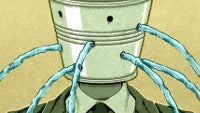 By now, even the non regulars among our viewers know the drill: the road to a flagship announcement is paved with... leaks. Yeah. Rumors, leaks, insider intel, speculation, and even lies, all mixed together in a collective bowl, constantly churning, constantly contributing to our understanding of devices that we're not intended to understand just yet.
Take a look at our homepage. It's been a bountiful week, full of new, tangible leaks that have pretty much revealed what Samsung has in store come MWC 2016 in Bareclona (in two weeks). HTC's One M10 and LG's G5 share the same fate. And in a way, one could argue that these leaks spoil the surprise. And it's rather hard to argue, especially given just how many eyeballs these same leaks attract each time, every time.
But perhaps not
your
eyeballs. Perhaps you're the rare exception. Perhaps you're ever the unwilling watcher on the sidelines, always grappling with conflicting feelings: to see, or not to see. Perhaps you don't think twice and dive right in.
Well?