Acer Iconia A1 hands-on: aluminum on the cheap
2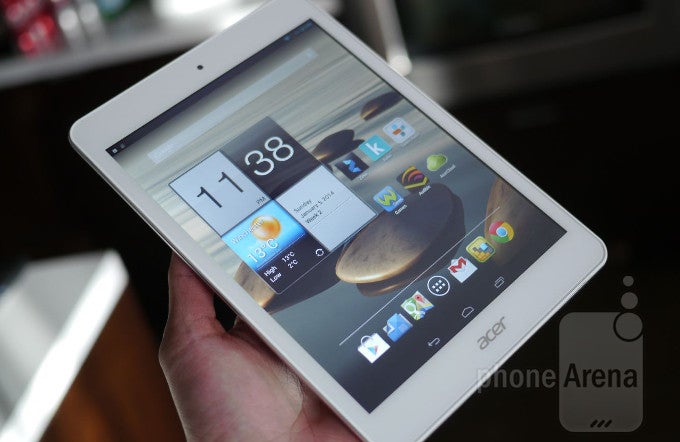 Acer got down and dirty in its engineering department with the new Iconia A1-830 edition, aiming for the best value for money tablet from a brand name manufacturer, and on first blush it managed to achieve our virtual goal. The Iconia A1-830 comes with a metal-clad chassis, or at least an aluminum backplate, which is rare for tablets at its rock bottom $150 price range, so we immediately went to take it for a spin, and see whether we are truly getting a bargain.
Design
Acer's new tablet indeed feels premium, thanks to the metal back, though a bit slippery, again thanks to the aluminum cover on the rear. Being made out of metal, the tablet has some heft to it, compared to other 8-inchers, weighing a solid 0.84 pounds (about 380 grams). It is, however, pretty thin at 0.32 inches (8.15mm), almost catching the sub-8mm waterline that marks our "Slates on the catwalk" roundup. Its meant to be used in portrait mode with one hand, with rather thin side bezels, and comparatively narrow, elongated body, that would be comfortable to hold vertically if you have larger hands, but for a smaller ones it would be a stretch.

Display
The 7.9" display is of the IPS-LCD variety, ensuring bright visuals and very good viewing angles. At this low price and premium build, something had to give, and it's the display resolution, which matches that of the original iPad mini at 1024 x 768 pixels. Thanks to the screen size it doesn't look extremely bad, but if you are used to more expensive small tablets that now reach all the way app to the 2560x1600 pixels of the
TabPRO 8.4
, Acer's panel will look very dated. If you are just opening yourself to the wonders of compact tablets, though, and this is your first such device, icon and text jaggies won't ruin the experience, unless you are used to miss the forest for the individual pixels.
Processor and memory
Under the hood, the Acer A1-830 features an Intel Atom Z2560 (or Clover Trail+) processor clocked at 1.6GHz and 1GB of LPDDR2 RAM, which runs running on Android 4.2 Jelly Bean without a hiccup, though we'd love to have seen a newer Android version on the affordable slate. The energy-savvy chip contributes to the great battery life of the tablet - the new A1 promises to keep going for 7 and a half hours on a single charge. The tablet comes with 16GB of internal storage, and you can further expand on this via a microSD card.
Camera
The new Iconia A1 tablet comes with both a rear and front facing cameras, which is generous of Acer, considering the price point, though the maker did not mention their resolution, though we'd wager to guess a 5 MP rear and a 2 MP front cameras are in store. Acer mentioned only that the main camera records 1080p videos, and the front shooter captures 720p footage, and that's all we ask.
Expectations
Not to rain on anyone's parade, but Acer nailed the design and hardware of its $149.99 tablet. Its slim, premium build hints of a much more expensive tablet, while the tablet doesn't skip on slots and cameras like some other cheap slates we know. The big compromise is screen resolution, though not screen quality, so we are confident that many a first time tablet buyer will be seduced by the price tag of the Iconia A1-830 for casual browsing or watching videos on the go, so we can say well done to Acer even before we've put the tablet through its complete review pacing. It gets even better for us consumers, as such well-built slates coming in for a Benjamin and a half might force the other makers to reconsider their pricing downwards too.