AT&T's new voice plans for Canada and Mexico start as low as $25 per month
7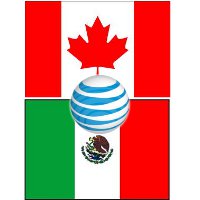 Come on people, we know it happens to everyone at some point or another, but doesn't it suck when you get home from a trip to another country and find your phone bill being astronomically out through the roof? Well, if you happen to vacation in
Mexico or Canada
a lot, you ought to know about some of the new voice plans being offered by
AT&T
very soon – so that you can save yourself from those coma inducing bills!
Starting on
January 22nd
, AT&T will begin offering its new voice plans that target customers who happen to vacation in Canada or Mexico. Specifically, rather than being hit with some ridiculous roaming fees, these new Canada and Mexico Travel Minutes plans cater to a wide array of people that primarily make voice phone calls.
The breakdown goes like this:
50 minutes of talk time for $24.99 per month
125 minutes of talk time for $49.99 per month
275 minutes of talk time for $99.99 per month
800 minutes of talk time for $199.99 per month
Furthermore, AT&T will also be dishing up
per-minute voice rates
as an alternative, which range from
$0.39 to $0.79
. Sure, it might still seem rather pricey, but hey, it's substantially lower than the usual AT&T roaming rates – so it's essentially better than nothing. So in the end, there's no need to worry about those bill shocks seeing you can sleep knowing you're covered if you happen to travel to our neighbors to down south or up north.
source: AT&T (
1
&
2
) via
Phonescoop