AT&T offering a $100 credit to new service activations using AT&T Next
5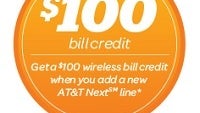 Through September 30th, customers who activate a new line of service with a new phone purchased using AT&T Next, the carrier's equipment payment option, will get a $100 credit on their bill.
Like its competitors, AT&T offers payment plans and upgrade incentives to those that want to be able to replace their devices every so often. Unlike its competitors, AT&T actually offers two versions, AT&T Next 12, which allows for annual upgrades, and AT&T Next 18, which allows for upgrades every year-and-a-half.
The equipment payment plans allow people to buy their devices with little money upfront, usually just sales taxes, pay no activation charges, and the equipment payments are incorporated on the monthly bill. Plus, the monthly service plans will generally see some type of discount, under the auspices of the carrier not having to subsidize the cost of the device.
With this promo, AT&T sweetens the pot a little bit for those that have been contemplating adding a line to their account, or making a switch from another carrier. $100 will not necessarily cancel the expense of an early termination from a competing carrier, but it
will
offset the sales tax, and then some, for those that like incentives here and there.
The offer is stackable with some other existing promotions that are in place with AT&T as well, meaning you could get more than $100 out of the deal if your sales rep is on their game.
source:
AT&T