AT&T details its network upgrades in western Pennsylvania
5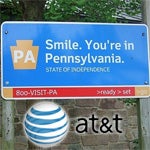 AT&T customers in the western Pennsylvania area may have noticed some improvements in their service over the past year. AT&T took to the web to detail the progress it has made on its network in this area. The company states that it has made nearly 600 upgrades in the past year.
Some of the upgrades include:
Deploying enhanced backhaul connections to more than 200 cell sites. Combined with HSPA+ technology, these backhaul deployments enable 4G speeds.
Adding capacity or an extra layer of frequency - which is like adding lanes to a highway - to nearly 300 cell sites.
Activating 11 new cell sites to improve network coverage and upgrading more than 120 existing cell sites to provide faster mobile broadband speeds.
"
More than ever before, customers look to wireless communications to stay in touch with family, friends and business colleagues,
" said J. Michael Schweder, president, AT&T New Jersey and Pennsylvania. "
We're working to make this possible by investing in new wireless coverage in the area.
"
AT&T stated that it plans to continue these types of upgrades nationwide in order to increase network speed, coverage, and reliability for its services. It also plans to install radio carriers at thousands of cell sites nationwide in order to add capacity to support the over 8,000% growth it has achieved in mobile data traffic, as well as its future growth plans.
source:
PR Newswire