AT&T customers will receive an $88 million refund for crammed-in mobile charges
1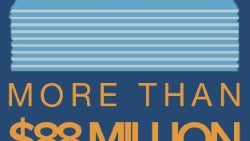 In 2014, AT&T fell under the Federal Trade Commission's scrutiny for tacking on unauthorized charges to customers' monthly bills. Together with companies Tatto and Acquinity, the carrier crammed $10 charges for content such as horoscopes, ringtones, love advice and fun facts into the monthly bills, then kept 35% of the profit. All of this happened with no customer consent whatsoever, leading to an outcry and eventual FTC crackdown.
The carrier had to stop the practice and was asked to refund customers. In what's deemed "the most money ever returned to consumers in a mobile cramming case," AT&T will have to pay out over $88 million in refunds, with about 2.7 million customers getting back around $31 each.
The money will show up on current customers' mobile bills in the next 75 days, and former AT&T subscribers will get refunded via a check in their mailbox.
source:
Federal Trade Commission
,
FTC Blog
via
Engadget