ARM's new efficient Cortex-A35 core might end up employed inside wearables
18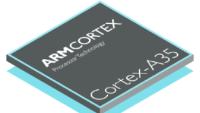 On the heels of introducing its Mali-T470 GPU that will crunch graphics for wearable devices, ARM has introduced the ARM Cortex-A35 core that can be used for the wearables market. It is designed to be used in devices where not that much processing power is required. The new core is part of a low power consumption tier that ARM calls "Ultra High Efficiency."
The Cortex-A35 is 25% smaller than the Cortex-A53, and uses 32% less power than the latter. Overall, it is 25% more efficient. Which means that we co could see the Cortex A-35 replace the Cortex A-53, the Cortex-A5 and Cortex-A7. Compared to the Cortex-A7, the new core uses 10% less power, with a 6% to 40% improvement in performance. It can be used in conjunction with the Cortex-A72, Cortex A-57 or Cortex-A53 in a big.LITTLE designed chipset where it would be handling the less imposing tasks.
Parts of the Cortex-A35 are even newer than what you will find on the Cortex A-72, which is why the new core is so power efficient. The first devices to employ the Cortex-A35, whether a smartwatch or a new handset, will be rolling off the assembly line in 2016.
source:
AndandTech
via
SlashGear