A new patent by Apple hints at profound interface changes possibly starting with the iPhone 5
28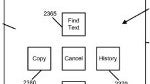 iOS' introduction back in 2007 sparked a revolution and it seems that Apple feels the time is right for another radical improvement - this time concerned with radial menus.
Apple patented the
"novel radial menu techniques"
and although it's yet unknown exactly how this patent will be implemented in practice, it's reasonable to expect that Apple will get all the existing good sides of radial menus and add some new improvements and optimizations for its iOS. The pictures below may give you some hints, so take a look. The exact wording of this patent is:
"…The novel radial menu techniques of some embodiments include (i) non-uniform spacing of menu items, (ii) the use of shading or highlighting within a region associated with an item to indicate the present selectability of the item, and (iii) the use of radial gestures for opening sub-menus and the subsequent display of the sub-menu."
Excited? Radial menus may become a must in the future, but for now are just a good idea. Their practical implementation will be interesting, though, so we're looking forward for more news on the subject.
source:
UnwiredView