A new app to control your BlackBerry from a PC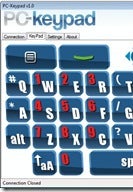 A new budget friendly app from the company Afandi Apps called PC-Keypad allows BlackBerry users to control their phone from their PC.
These types of apps have been around for a decent amount of time, the most popular of which was Impactica viaDock. That particular app even allowed you to view the screen of your BlackBerry on your PC's monitor, but carries with it a hefty $39.99 price tag.
While this new app may not have the screen view capability, it still has some similar features at a much easier price to swallow of $6.99. The main function is particular useful if you are in an area where you don't have internet access for your PC and you have a long e-mail to send out. If you are ever in that type of situation, this app may be worth taking a look at, especially considering the much cheaper cost when compared to similar functioning applications.
For those of you that have used applications like this on your BlackBerry, what do you think of them? Do they work as well as you would like? Does the low price tag for this application entice any of you BlackBerry users to give this app a shot? Tell us what you think in the comments below.
source:
Berry Review