A flexible Galaxy S5 concept video fuses speculation into a beautiful, aluminum phone
44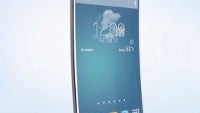 Tens of exciting new devices have seen the light of day these past few months, yet it's starting to feel like the release stream has finally ran dry. Vacuum, however, is an unacceptability that has found no place in the burgeoning world of mobile tech and so we simply look elsewhere for something fresh.
With 2014 fast approaching, it's about time we started getting a little crazy in anticipation of the upcoming Galaxy S5, and luckily – hype is anything but scarce. Obviously, it's all mostly speculation at this point, so do keep that firmly in mind. Having said that, we could contend that a
certain
amount of educated guesses are... well, a little more than just guessing. Tons of splintered intel has come in our general direction, and while we're doing our best to curate that information for your reading pleasure, nothing quite measures up to a full-blown concept video.
Courtesy of the folks behind the O2 Guru TV YouTube channel, the below 2 minute odd clip is actually a pretty well put-together summary of what we know, plus some fiction, of course. Said otherwise, while
a 2560x1440 display is (at this point) likely
and
a 16MP snapper has been speculated already
, we're quite new to the idea of an LG G Flex-like bendable Galaxy S5.
In any case, the video below raises a few valid concerns with current-gen Samsung smartphones, and we sure hope the South Korean manufacturer has something a tad more sophisticated this time around.