A couple of things to try to improve your Droid Incredible's battery life
22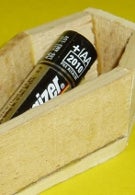 If the HTC Droid Incredible has a flaw, it is the handset's battery life. A Droid Incredible owner recently recharged his handset all night, and within a few minutes after taking the phone off of the charger, the battery life dropped down to 93%. Two hours later, the meter was at 70% and by 4pm, the power cell was deceased. Is it possible that the battery is not getting fully recharged? On the forums, other Droid Incredible owners passed along suggestions on how to improve the power cell's longevity. It was pointed out that using an external wall charger prevented the battery from quickly losing a few percentage points of power immediately after unplugging it. Another suggestion was to keep the phone plugged in even when the green light tells you that the battery is charged. Instead, turn off the phone and wait for the light on top to turn from orange to green again. Once the light hits green again, you should plug out the phone and plug it back in. This is one way to make sure that the cell gets fully charged.
Another way to make sure that your Droid Incredible is overflowing with electric juice is to open the Desktop Clock app before charging the phone. Hit the back button to get to the more detailed part of the application and then plug in the phone. At the bottom right will be a reading that shows you the percentage of the battery that has been charged, but more importantly, doing this allows the device's battery to get fully charged.
If you have been having issues with the battery on your Droid Incredible, try these suggestions and let us know if you get any improvement. Droid Incredible owners have been raving about the phone with the exception of the battery and we would expect a firmware update to address this issue eventually. In the meantime, there are homemade fixes like those above that might help you squeeze some more life into your phone.
HTC Droid Incredible Specifications
|
Review
source:
AndroidForums
,
incredibleforum
via
Androinica