8 awesome data visualizations centered on the smartphone industry as it is
9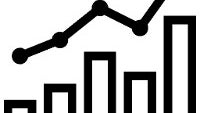 Through data visualizations of all kinds, statistics have served as a cornerstone of human knowledge for centuries, by giving us the means to analyze impossibly vast volumes of data through succinct and understandable presentations. For many — us included — data visualizations are an integral part to the reporting and reviewing process. In short, we love charts, and today, we're assuming that you do too!
From projected data consumption across the world, through Samsung's flailing sales, down to rise of larger-screened devices, we've picked 8 expertly-done charts, most of which courtesy of
dataviz
, so you can share in on the fun, get a better sense of what's going on in the smartphone industry, and even learn something new.
Here we go!