64% of all iPads sold last quarter were iPad minis
11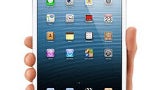 That's not official info, but according to the all-knowing sources of Digitimes, the iPad mini is doing quite well when it comes to sales. So well, in fact, that it has easily out-sold the super-duper retina-defying iPad.
The Apple iPad mini sales for the last quarter are estimated to represent about 64% of all iPad sales, which is quite a healthy advantage over the big guy. That means Apple has sold about 12.5 million iPad minis in three months alone, which is staggering considering the fact that the highly-praised Google Nexus 7 has sold only 4.5 million units... during its entire lifetime.
Digitimes' sources claim that Apple is actually gearing to launch a new iPad mini as soon as this August, although that should be taken with a grain of salt. It's not clear yet what improvements the new iPad mini is going to introduce, but it's believed that it'll have a much higher-resolution display, or, as Apple calls it, a Retina Display.
Meanwhile, the sources seem convinced that Google and Asus are already hard at work on the successor to the Nexus 7, which might be released in July.
We are glad to see manufacturers starting to pay more attention to the smaller tablet form-factors, like 7" or 8", as that will quickly develop a somewhat overlooked, but obviously quite fruitful segment of the tablet market.
source:
Digitimes
via
BGR