6 first-person shooters for iOS you have to try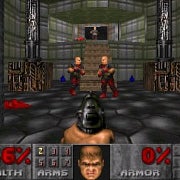 The App Store isn't exactly packed with first-person shooter games, and there's a pretty good reason for this. You see, using the touchscreen to move and look around, as well as shoot and jump at the same time just isn't as comfortable (or should we say possible?), as it is with a mouse and keyboard. With that said, we do recognize the fact that there are a lot of you who simply love playing FPS games on their iPhones and iPads. To tell you the truth, we have spent quite a few hours playing FPS's ourselves, enchanted by the incredible graphics that some of those titles offer.
So, it appears that the clunky controls aren't stopping developers from pushing some amazing games in this genre, which is a great thing, of course, Below you'll find our own selection of iOS first-person shooters. Note that we haven't included FPS titles that are "on rails", meaning that the player movement is done by the phone.