500MHz of spectrum to be offered for wireless use in the next 10 years
2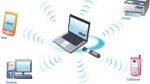 When you hear of Five Year Plans, you probably start to think about planned economy and communism, but this time it's something much more positive. The US Commerce Department announced yesterday that 115MHz of radio spectrum will be released for use in wireless broadband service in the next five years. This is in accordance with the stated plans of the Obama administration to make available 500MHz of spectrum within the next decade.
This 500MHz spectrum will be relocated from an already identified total spectrum of 2200MHz. The percentage allocation of this 500MHz spectrum between commercial and Federal use is as follows: 28% is for Federal use, 35% is for commercial use and 37% is shared between Federal and commercial use. As for the spectrum bands that are set to be relocated in the next five years, they are: 1) 1675-1710 MHz, 2) 1755-1780 MHz, 3) 3500-3650 MHz, and 4) 4200-4220 MHz and 4380-4400 MHz.
Two of these spectrum bands - 1695-1710 MHz that is currently used for dissemination of information for severe weather and 3550-3650 MHz, which will be shared with the Department of Defense, are "recommended" as most suitable for relocation.
We have told you that data consumption in the US alone
will pass the 1 exabyte mark
by the end of 2010 and with the new 4G technology on the way, this number is bound to grow. That's why the wireless companies are
ready to splash billions
in building their networks and buying spectrum bands. Only time will reveal the practical implementation of these plans, but one thing is certain – it's impossible to predict how far the wireless technology will go in ten years time.
source:
Cellular-News
via
Into Mobile