5 sports apps for Android
9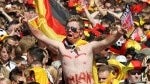 If you happen to be a
sports fanatic
, you surely want to stay informed about your favourite club all the time. And sometimes that's not the easiest of tasks, because all these life necessities like work, girlfriends and so on get on the way on the really important things - like thinking about tactics or daydreaming about a big name signing.
Well, that's no longer true thanks to your beloved
Android
smartphone. Every time you are on the go, and do the things you do, you can still check the latest stories about your preferred league and team. To make your choice easier, we have collected
five quality sports apps for Android
, so let's begin with...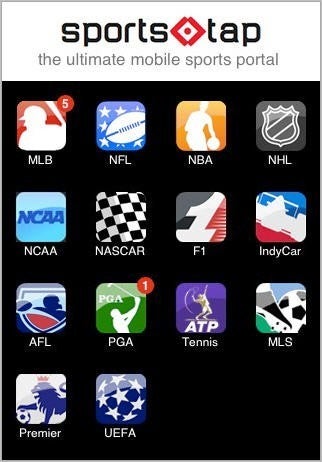 SportsTap
| Price: Free | Size: 1.24MB
Probably the most popular Android sports app, SportsTap's success is easy to explain - it offers practically
all major sports
you can think of and plenty of stats, photos, standings and schedules. Furthermore, you can choose a "
favourite team
", which is available for multiple sports, and it allows you to follow closely your club's fortunes. This is especially true when the notification option for your favourite team is enabled. Another cool feature is that you can put a favourite team
widget
on your homescreen.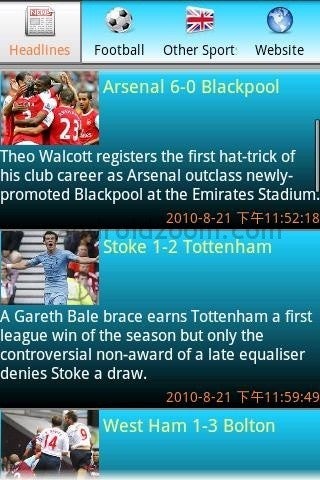 BBC Sport News Center
| Price: Free | Size: 197KB
The sports section of
BBC
is the best place if you want to receive official information about
almost any sport
, and, furthermore, these guys always seem to be the first to get it. Now that offering is brought to your Android smartphone thanks to the BBC Sport News Center app, which allows you to browse through various leagues, tables, match schedules and so on. The interface is very similar to that of BBC's mobile page, so if you are used to it, you will probably find this app very easy to use.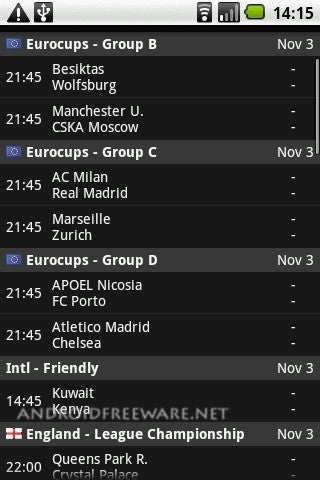 Soccer Live Scores
| Price: Free | Size: 136KB
Soccer Live Scores is very similar to arguably the most popular football
livescore
- Livescore.com. It should provide everything that you expect from a good livescore, although it lacks some perks like photos and highlights. However, if you are searching for
up-to-the-second scores
and want to leave the news and rumours to, say, football365.com, chances are this one will fit the bill.

ESPN ScoreCenter
| Price: Free | Size: 686KB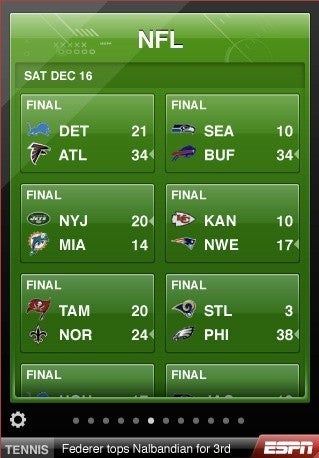 Similar to Soccer Live Scores, ESPN ScoreCenter offers
livescores
and
match schedules
, but unlike it, many sports are supported. The interface is really neat and the "
Top Events
" category is available, which notifies you about important games. ESPN ScoreCenter also has the "myTeam" option through which you can see the upcoming and current matches of your team. The app's popularity is speaking volumes about its quality, and you can download it for free from the Android Market.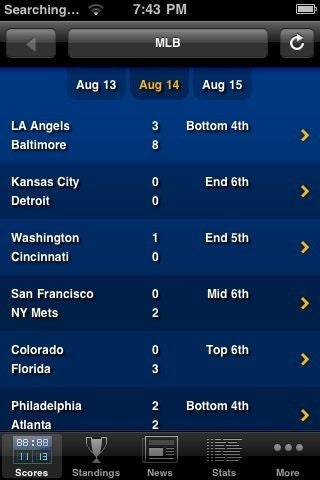 Score Mobile
| Price: Free | Size: 1.32MB
Like some of the other apps in this list, Score Mobile offers livescore, news, stats and the "
favourite team
" option. The advantages this sport app holds over its above-mentioned rivals are called fancy UI and lots of details.