5 smartphones and tablets that sing the awkward tale of dual-booting Android & Windows devices
8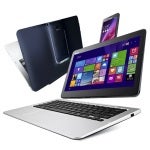 If technological websites such as ours make up a fair share of your daily reading, you may remember a bunch of manufacturers, most notably ASUS and Huawei, announcing smartphones and tablet hybrids that freely booted into Android and Windows. They seemed very promising, but for reasons that mostly have to do with Google and Microsoft politely telling its technological partners to hold off launching dual boot devices... or else, products like
the ASUS Transformer Book V
and
the unnamed Huawei smartphone
never saw the light of day.
While that concluded the short history of dual boot mobile devices for the rest of 2014, 2015 is up for a change. Strong-headed Chinese manufacturers got their hands on Intel's Atom chips, then they happily took the open-source Android and the Windows that Microsoft gives away, and made what they do best - cheap tablets, now booting into Android and Windows 8.
Before you consider crawling your favorite Chinese reseller website for dual boot tablets, why not have a glimpse at five essential dual-booting devices? Most of them should have come out last year, but either didn't, or showed up in a much different form.