5 beautiful iPhone 4S cases
28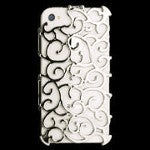 It is not a secret that most cases out there will add protection, but will also ruin the look of your iPhone. And that's a pretty high price to pay, considering that the
iPhone 4S
/
4
is a real marvel of modern tech, in terms of design. However, did you know that there are actually some offerings that will not only protect your iPhone, but will also elevate its sexiness to a whole new level? Well, guess what – we tried hard to seek out some of the most appealing iPhone 4S/4 cases for you, and ended up with this selection of 5 uniquely-cool models right here. Let's check them out!
ION-Factory PredatorZero
Did you know that carbon is the new black? Looking at the PredatorZero by ION-Factory, we are certainly willing to agree. Available in various colors to suit every taste, the PredatorZero combines real carbon fiber with glossy polycarbonate to achieve one head-turning effect.
Price:
$69.99
monCarbone Midnight Black
But just in case you are now over all that "I-want-people-to-notice-me" stuff, but still appreciate high-quality materials, then you'll most probably appreciate the monCarbone Midnight Black case as well! This one's all about carbon fiber, and none of the polycarbonate found with the PredatorZero. Minimalistic and classy, subtly elegant, even quietly brilliant, if you will, is the formula behind the Midnight Black.
Price:
$49.99
Case-Mate Facets
It's now finally time to leave Carbon world and head for the jolly land of plastic. Ohh, don't be blue – plastic can be cool too – just check out this beautiful iPhone 4S/4 case by Case-Mate, called Facets. Available in Purple, Clear (transparent), White, Red and Black variants, the Facets case won't wait for a second chance to transform your iPhone into a jewel of a phone.
Price: about
$39 (£24.99)
ION-Factory NouveauArt
If there's a ladies' case, we can't imagine anything more suitable than the NouveauArt by ION-Factory. Striking you with its unorthodox looks at first, we must admit that the more we're looking at the NouveauArt, the more we fall in love with it. Both the gold and silver color variants will immediately get everyone in the vicinity notice you.
Price:
$35.99
Pinlo Consize Metal
Do you miss the characteristic aluminum back side of the original iPhone and the premium feel it had? Yeah, we know - glass is certainly cool, but good-old aluminum is a whole other story. The good news is that if you want, you can bring those old times back with the Pinlo Consize Metal! Having a real aluminum outer casing and a triple-layered polycarbonate inner one, the Consize Metal manages to be both premium and ultra-light.
Price:
$35