4 easy to install screen protectors for your phone
8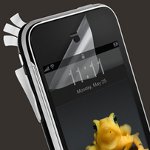 So here's the scenario. You walk into your favorite local wireless store, buy the smartphone of your dreams with your hard-earned money, put it in your left pocket, and get home to realize that you've inadvertently scratched it. Cue the rage, right?
Oh yeah, we can agree that the luster is now gone, essentially tarnished by a single scratch on the display, but it could've all been avoided in the first place. Sometimes, we get worked up by the whole experience of buying a phone, but if there's one accessory you ought to buy ASAP (even before heading out the door), it has to be a
screen protector
of some sort.
Obviously, there's an array of products that one can choose from, however, some can be more of a pain in the rear to apply. Recently, we went around shopping for a screen protector for a tablet, but one of the biggest issues we noticed is the annoying amount of bubbling occurring when applying the over-sized piece of plastic. In all honestly, it actually degraded the overall look of the tablet – so why even bother? Well folks, we're here to tell you which ones are going to make the entire process simple, quick, and most important – hassle free!
Wrapsol Ultra:
Wrapsol Ultra
screen protectors. Adding a thin protective film, this
100% polyurethane film
is durable enough to absorb most superficial scratches – without compromising the look of your handset. Although there might be some initial bubbling, it's mentioned to minimize after 24 hours, and after a quick pass through with the included squeegee, everything looks flawless and bubble-free. You can pick it up for as low as
$15
for just the screen protector with most handsets.
3M Natural View:
3M Natural View
screen protector is a simple peel on type protector and packages quite a few different technologies behind the scenes. Aside from providing superior protection against scratches, it offers crystal-clear image clarity and reduces reflections so you have a pristine looking finish. Fortunately, there isn't much bubbling with this one when applying it for the first time, but you'll need to make sure the surface is clean so no debris is trapped during the process. Did we mention you get a
lifetime warranty
with it? Pricing is also reasonable at
$19
on the average for most devices.
Cellbatt:
Cellbatt's
line of screen protectors – simply, they're
super cheap
! When it comes to the most basic of basic screen protectors, this will get the job done with its anti-glare protection, crystal clear application, and protection against scratches, scrapes, and abrasions. If someone happens to sell you one for more than $10, you're probably getting ripped off. In fact, you can pick them up on the average for under
$5
! Talk about substantial savings!
Zagg InvisibleShield:
Zagg's
extensive line of
InvisibleShield
screen protectors. If durability is top priority, you don't need to look at anything else because it's guaranteed to survive through even some of the worst instances of scratching you can dish upon a handset. However, you're required to use the included liquid applicator to install it, which can complicate some things for people. But hey, it actually aids in helping you to apply even pressure when ironing out some of the bubbles, which goes away almost instantly. With its
lifetime warranty
, you can buy just the screen protectors for a mere
$15
.