$23.9 million luxury yacht, the Adastra, can be controlled with an iPad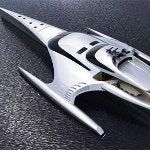 Shopping around, there are tons of devices and cool accessories that can be controlled by the iPad – like some RC helicopters, cars, and even remote cameras. However, if you happen to have a cool stash of
$23.9 million
hidden somewhere in the backyard, then you might be interested to purchase one super luxurious yacht that integrates Apple's tablet.
Looking at the rendered shots of
the Adastra
, it might appear to look like some kind of futuristic spaceship more than anything else, but in fact, it's none other than a luxury boat ready to sail the seas in style. Actually, the Adastra is the culminations of
five long years
of hard work between billionaire Anto Marden and yacht designer John Shuttleworth.
On top of the high-end materials, design, and features that make up the Adastra, it's worth noting that it's also filled to the brim with plenty of tech goodies that should make any gadget lover overload with joy. Interestingly enough, it boasts an
iPad-powered remote control system
, which can allow the captain to steer the vessel at a top speed of 22.5 knots. Well, the cool thing is that the iPad control system has a range of 50-meters, thus, allowing one to control the yacht outside of the main bridge.
Needless to say, most of us dream about owning something like this, even more when it's iPad controlled. Well, it'd be a great idea to have the iPad tethered somehow onto the yacht itself – in the event someone tries to throw the thing overboard.
source:
John Shuttleworth
via
TUAW
&
Daily Mail